At the beginning of Ikariam you only own a small, fertile piece of land on a green coast.
Can you turn it into a flourishing town and capital of a mighty island empire? These pages will give you a general idea of how to get there.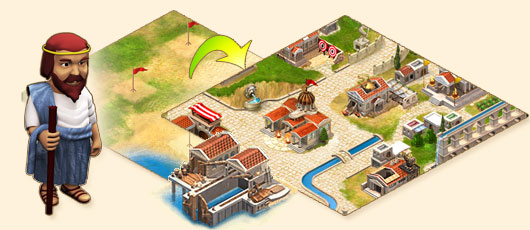 There are five resources distributed over the islands of the world:


Building Material,

Wine,

Marble,

Crystal Glass and

Sulphur.
During the game you will definitely need a lot of building material - assign workers in order to get building material and expand the resource deposits together with the other players on the island!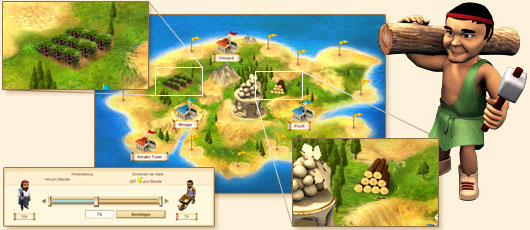 After you have sorted out the resource supplies, you can start and expand your town.
1. An academy allows you to make a lot of fantastic discoveries.
2. With barracks you can begin to instruct troops.
3. Building a trading port and merchant ships will allow you to trade resources with other players.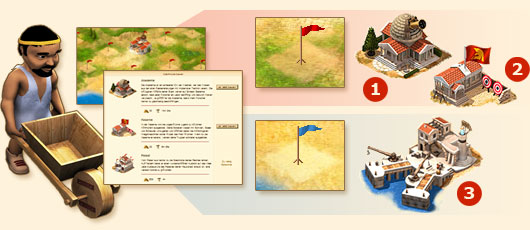 Four loyal advisers will stand by you, so that you are always up to date and can keep your head above water.
When they light up, this means that a new message for you has arrived. Then you can get the newest information from your advisers.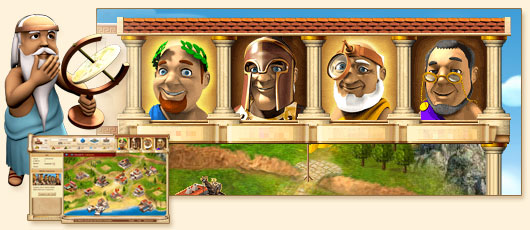 You can change the view in Ikariam when you like. From the world view over the island maps to the town view.
Now that you have learnt all the important things for the start - you only have to register (for free!) and then you are ready to go!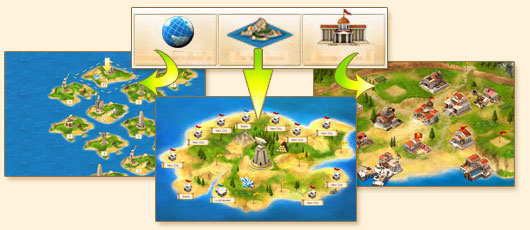 Beginner-Friendly
Start off by creating your town in a protected environment and gradually discover the countless opportunities in the world of Ikariam.
Suitable for occasional players
Your people will continue to work on the jobs they are assigned to even if you are not there. As their leader you can occasionally take a breaks without putting your achievements in danger.
Cooperative Gameplay
Found an alliance, confederate with your friends, form trade treaties and go on pillaging missions with your allies.

Intuitive Research System
Let your clever scientists invent sophisticated machines and dangerous military equipment. Discover new technologies, buildings and weapons to help your island kingdom progress.
Build, Trade, Settle, Pillage
Establish your town`s foundations. Make contact with other players to trade goods. Colonise new islands on your search for valuable luxury goods. Fight your foes and pillage their resources.
Remarkable Graphics
The prospering metropolis is constructed in detail and the streets will soon be lined with numerous useful and magnificent buildings.
PLAY FOR FREE NOW!